I'm currently doing house keeping on the wiki so some articles may be missing or link errors as I edit some links and add templates or articles. 

Kusuo1412

  

Talk

 WataMote 

 15:13,8/25/2016
Welcome to Watashi Ga Motete Dousunda Wiki!

Manga Guide • Characters • Administrators • Recent Changes • New Photos • New Pages • Help Wiki
Welcome to the Watashi ga Motete Dousunda, a Wiki dedicated to everything about the manga Watashi ga Motete Dousunda that anyone can edit. Please help us by creating or editing any of our articles! To edit articles, you must login or register to wikia.
We currently have 2,191 edits to 85 articles and 131 images on this wiki.
Help us expand the Wiki
The wiki is now in need of volunteers who can add chapters summaries and audio drama summaries. To get started, visit Volumes and Chapters and Audio Drama pages.
Chapters 3-39 has no summaries!
Audio drama CD 1-4 have no summaries!
---
To create a new article, simply enter the article title in the box below:
Trouble getting started?
Synopsis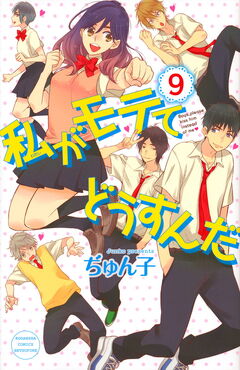 Kiss Him, Not Me (私がモテてどうすんだ, Watashi ga Motete Dōsunda, lit. What Should I Do, I'm Popular?)
is a Japanese slice of life romance shōjo manga series written and illustrated by
Junko
. It is published by Kodansha since 2013 on Bessatsu Friend magazine. Nine volumes compiling the chapters have been released so far. It is published online in English by Crunchyroll and the volumes will be published by Kodansha USA. An
audio drama
adaptation of the first chapter was released on January 13, 2015. An anime adaptation has been announced and is due air in October 2016. The manga won Best Shōjo Manga at the 40th Kodansha Manga Awards.
Serinuma Kae is a chubby second-year high schooler and an avid fujoshi who secretly ships her classmates, Igarashi-kun and Nanashima-kun. The death of her favorite anime character causes her to become stressed--and loses weight rapidly. Now that Serinuma has become an attractive girl to her classmates, her snarky kouhai Shinomiya-kun, and her senpai Mutsumi. How is she going to deal with them...with her constant BL-filled, fujoshi mind?!
News
This year's September issue of Kodansha's Bessatsu Friend magazine revealed the opening and ending themes for the upcoming television anime based on
Junko
's Kiss Him, Not Me (
Watashi ga Motete Dousunda
) manga on Friday. From4to7, a band composed of the anime's main male voice actors (Yuuki Ono, Keisuke Koumoto, Yoshitsugu Matsuoka, and Nobunaga Shimazaki), will sing the show's opening theme, "Prince x Prince," and Rie Murakawa (Non Non Biyori, Is the order a rabbit?) will sing the ending theme, "Doki Doki no Kaze" (Heartbeat's Wind).
The issue also confirmed that the show will premiere in October premiere on TBS and BS-TBS. An advanced screening of the first episode will take place on September 19 at Tokyo's Kagaku Gijutsukan Science Hall.Source:{{#NewWindowLink:http://www.animenewsnetwork.com/news/2016-08-11/kiss-him-not-me-anime-reveals-opening-ending-theme-artists/.105206%7CANN}}
Characters
Wikis Affiliated